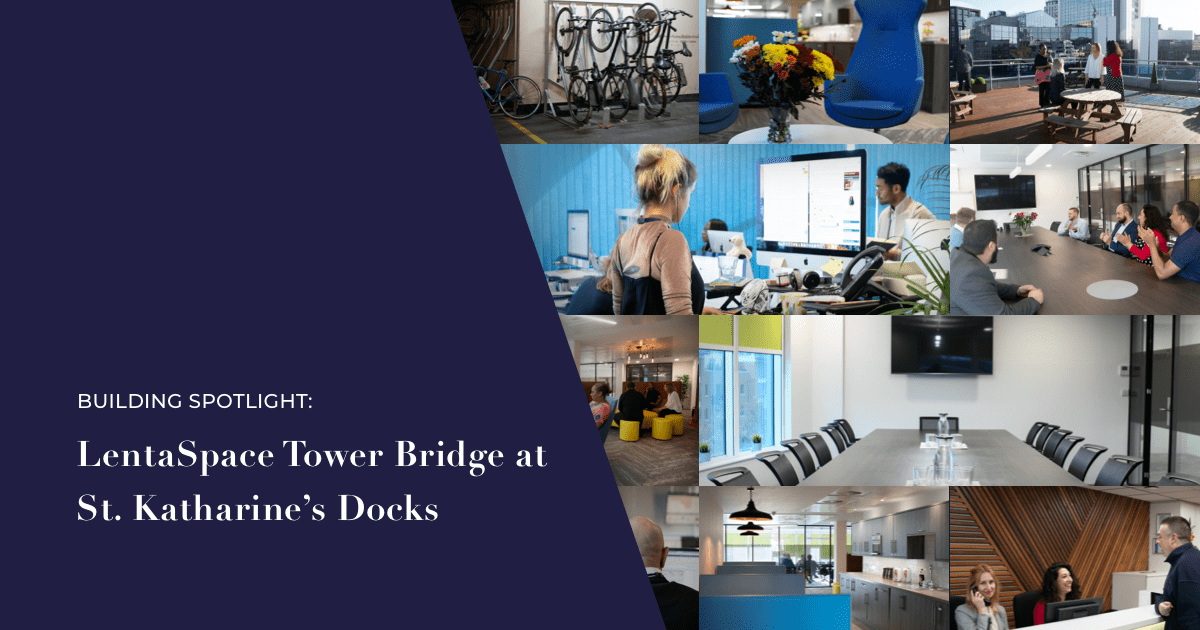 Building Spotlight : LentaSpace Tower Bridge at St. Katharine Docks
When you are looking for a new office, you think about the numbers – the budget, the postcode and how many desks you need. These are important, practical points, but we know – from our 40 years of managing office space in London – that the feel of working in a building and an area is what really matters over time.   So, we have decided to share the stories of what it's really like to work in our buildings, hear from the teams who manage them and – most importantly – our clients. First up is LentaSpace Tower Bridge at St. Katharine Docks.
An easy commute from most directions via bus, train, tube and the river
"The location is perfect for us as a business as it's an easy commute," says, Greg Olyzk, Director at IT support company Reliable Networks, who arrives at the office via the Tower Bridge DLR station, just five minutes' walk from the building. "It's close to the city but without the premium desk rates."
Diego Correa, who started his financial research company, Integral Research three years ago at the centre agrees, "I chose this office primarily because it's location offers a good commute for all of the company's directors. For me it's just 20 minutes on the bus and I walk across the bridge. Simple."
A great area, close to St. Katharine Docks
"The area is perfect, says Greg, "with Pret a Manger across the street and St. Katharine Docks on the doorstop, with places to eat and meet after work."
Danny Kelly, who has run his market research company, DataTree Connexions, at LentaSpace Tower Bridge for ten years shares that "The location is great, with St. Katharine Docks just across the street. The area is great too, with everything you need right on the doorstep."
An incredible team
"The team here are the key reason that I wouldn't move away from this building, says Danny, "They give me everything I need to run my business. I would even miss seeing them every day!  I don't worry about anything to do with running the office because the team have everything in hand and always keep me informed of any out of hours maintenance as they know I sometimes work over the weekend."
What do the LentaSpace team say about their building?
Centre Assistant Natalja shares that, "When we're showing clients around the building, we always find that once they stand on the 5th floor terrace and can see the surrounding area, they are sold.  Because then they realise how close they are to the river, St. Katharine Docks and the city.
Centre Manager Eleanor is clear on the building's immediate and longer-term attractions, "Clients come to LentaSpace St. Katharine Docks looking for a good value office deal, but they stay because they love the relaxed feeling in the building. Our clients are like friends to us, and the warm atmosphere makes it easy to network with people from other companies too. I often see people from different companies grabbing a coffee together."
How do we summarise the LentaSpace Tower Bridge experience?
In summary, Tower Bridge is central but without premium desk rates, in an area that's great for grabbing a coffee or taking a peaceful lunchbreak and has a relaxed working atmosphere. In other words, a hidden gem!
If you would like to book a tour of the building with our team, call 0207 953 8080, or book here.