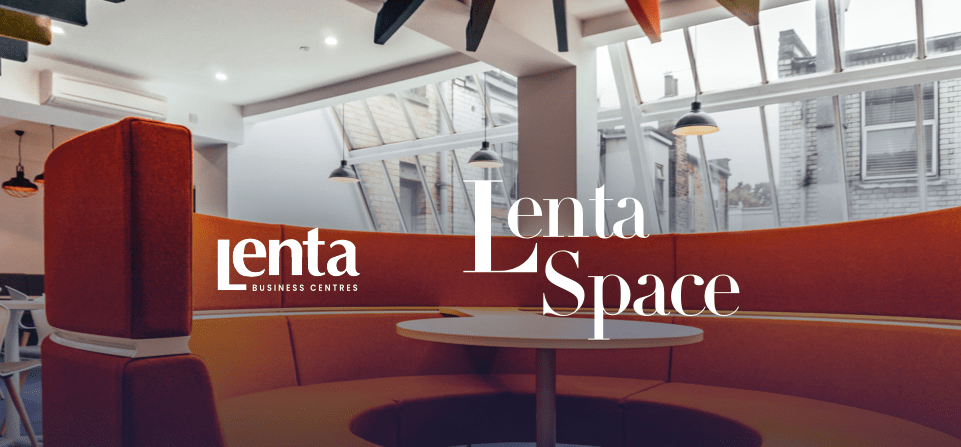 Lenta Business Centres Becomes LentaSpace
Today Lenta Business Centres becomes LentaSpace. The London-based flexible workspace operator, one of the longest established in the UK, opened its first buildings in 1981. In 2020 it now boasts fourteen buildings in the capital, offering serviced offices, meeting rooms and virtual office services.
Rebrand
Sarra Temple, Sales and Marketing Director, is thrilled that the new brand truly reflects the company, "LentaSpace tells the story of our heritage but also looks forward. Our new website www.lentaspace.co.uk showcases not only our spaces but also the great service that our team provide and the core values that make LentaSpace unique in the sector."
Investment programme
The rebranding comes as the ten-year investment programme in their portfolio begins to bear fruit. LentaSpace is one of the very few flexspace operators to own their building portfolio and are updating their buildings to meet the ever-growing expectations of clients. In 2018, Thanet House on Strand re-opened after a full renovation to create a clean and modern base for companies in the heart of London's legal centre and the Tower Bridge centre at St. Katherine Docks relaunched their stunning 5th floor breakout and meeting room space with wraparound terraces in 2019.
Spitalfields relaunch
This year saw Coppergate House in Spitalfields relaunched after an imaginative and stylish refurbishment, offering stunning reception and breakout spaces, as well as all the amenities that the market now expects. All just a stone's throw from the famous Spitalfields Market, offering a great choice of lunch options, shopping and culture.
The benefits of being an owner operator
Being an owner operator also provides other direct benefits to clients. Managing Director, Mark Gibbor's ethos is that, "LentaSpace's goal is to provide flexible workspace that has a personal touch for each client – and this is driven not just from our building teams; but throughout the whole organisation, including our Property and Facilities Team, who work with clients every day to redesign spaces, knocking down walls to create larger offices, or partitioning existing spaces to create meeting rooms and individual offices."   Mark also believes that clients can feel more secure moving into a freehold building, "Our clients can trust LentaSpace, as we have a long-term commitment to retain our portfolio. They can feel secure that their licences will not be curtailed, and this is one reason that companies choose to take space with us."
Looking to the future
Despite a challenging year to date for the London commercial real estate market, flexible workspace historically performs well during recession and LentaSpace is positioning itself strongly to take advantage of that growth, whilst continuing its legacy of supporting clients growing their businesses in central London.
To book a tour of a LentaSpace building please call 0207 953 8080 or email sales@lentaspace.co.uk
Website: www.lentaspace.co.uk
Twitter – @Lentaspace       https://twitter.com/Lentaspace
Facebook – LentaSpace https://www.facebook.com/LentaSpace/
Instagram – @lentaspace    https://www.instagram.com/lentaspace/
Linkedin – LentaSpace   https://www.linkedin.com/in/lentaspace/
Youtube – LentaSpace
Vimeo – LentaSpace