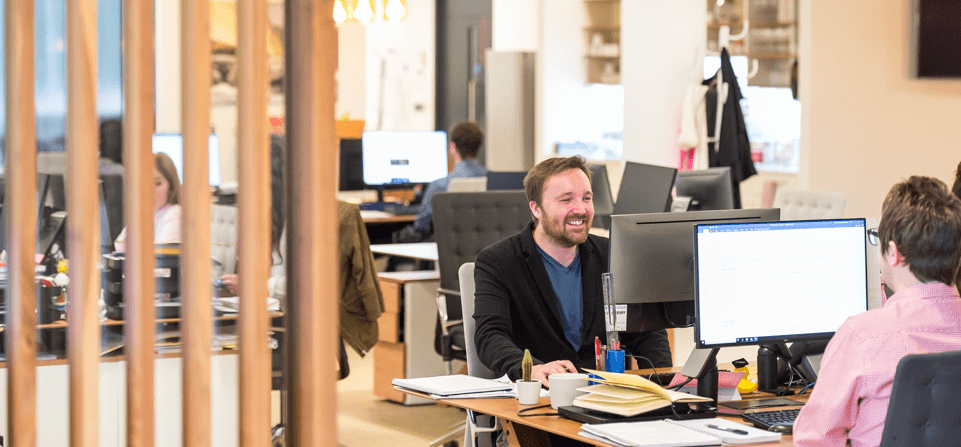 10 Reasons to Choose A Serviced Office
Read 10 reasons to choose a serviced office to help decide on your companies' next home. Leasing your own office floor or building can be both costly and time consuming. The combination of rent, furnishings, utilities and maintenance is not only expensive but the management time wasted on ordering office basics like hand wash and ensuring that there's milk in the fridge is higher than you think. Faced with these realities and anxious to focus on their own businesses, more and more companies are turning to cost effective and convenient solutions, like Serviced Offices.
Serviced Offices -also known as flexible workspace – are furnished, have communal meeting rooms, breakout areas and kitchens, secure access, often with receptionists, gyms, showers and bike storage. They are normally fixed term, paid monthly on a 'per desk' basis with a contract called a licence.
We've compiled 10 reasons to choose Flexible Workspace.
1. Less space needed
As opposed to renting a leased office, you only pay for the space you really need in a Serviced Office. Facilities like toilets, kitchens, meeting rooms and breakout rooms are communal, managed facilities. A flexible workspace provider, such as LentaSpace takes care of these, so that you only have to pay for the desk space that you use. This can create a large saving for businesses, who would otherwise have to pay for all of the space they use.
2. Fitted out and ready to go
When renting a Serviced Office, you won't have to worry about chairs, desks, drawers or filing cabinets. In addition, the space will be decorated and can be configured on request. When selecting a leased office, you would need to purchase your own furniture as the space is typically an empty shell.  Fitting an office out can also prove not only expensive but also time consuming.
3. Fixed business rates and utility bills
When renting a leased office, you will normally have to pay Business rates and a number of utility bills for the running of the office. Business rates are a property tax which can change depending on the valuation of the property. Utility bills can increase as well. So, if you rent a leased office, your business and utility rates may rise over time, meaning another additional cost that you may not have prepared for. Serviced Offices, however, come with fixed Business rates and utility bills. During the fixed period of rental in a Serviced Office, you won't be subject to any increases, as the Serviced Office operator absorbs these costs.
4. Outsourced staffing costs
Serviced Offices have an on-site team to look after you, such as Receptionists and Building Managers. This means that you can benefit from in-house staff who can perform adhoc tasks you need on site like greeting guests, signing for parcels and sorting the post without the need to employ a dedicated person for the role.
5. No need to go large
Any company that wants to expand takes a risk leasing office space. You cannot be certain that your company will definitely grow into the space, nor can that you won't outgrow it quickly. If you take a larger space to grow into, you will be paying for it for a long time, as you are usually bound to a 3 to 10 year contract. Choosing a Serviced Office normally rids you of this worry. Select the exact size you need initially and the provider will typically allow you to jump to larger spaces in the building as and when your companies grows.
6. Cheaper call costs
Once expensive additional costs in Serviced Offices, telephone calls are no longer a financial worry, and have in fact gone down in cost. Lots of Serviced Offices now provide very low cost calls, and some even include the cost of calls in the monthly licence agreement.
7.Flexibility and mobility
Most leased offices demand you sign an agreement for at least three to five years. Who can really say where their business will be in five years time? With Serviced Offices, that headache doesn't exist. Simply take for as long or as little time as you want, allowing you the freedom to expand or downgrade to a more compact space.
8. No broker fees
Often, in order to acquire a quality leased office opportunity at a fair price, you will need to pay a broker to represent you – at either an hourly cost or a percentage of the rent. Either way, it's an added cost. Serviced Offices operators are much easier to work with and have in-house sales teams to support you. Companies such as FreeOfficeFinder  also host over 2,500 offices online and do not charge finder's fees.
9. No maintenance costs
Maintenance costs will no longer be a cause of pain once you have moved into your Serviced Office. When the air conditioning stops working or the toilet gets blocked, it won't be your problem. In a Serviced Office these inevitable troubles are covered by the workspace provider whose job it is to fix them quickly, meaning you can focus on your business.
10. Networking
The opportunities to network in flexible workspace can provide an extra source of income and support your company's growth. Serviced Offices are packed with small to medium sized growing businesses and the networking possibilities are endless, over a coffee in the breakout area, or at the social and fundraising events that many operators organise on a regular basis.
So, if these 10 reasons to choose a Serviced Office have convinced you, find out what space we have available at LentaSpace, speak to our Sales Team on 0207 953 8080.