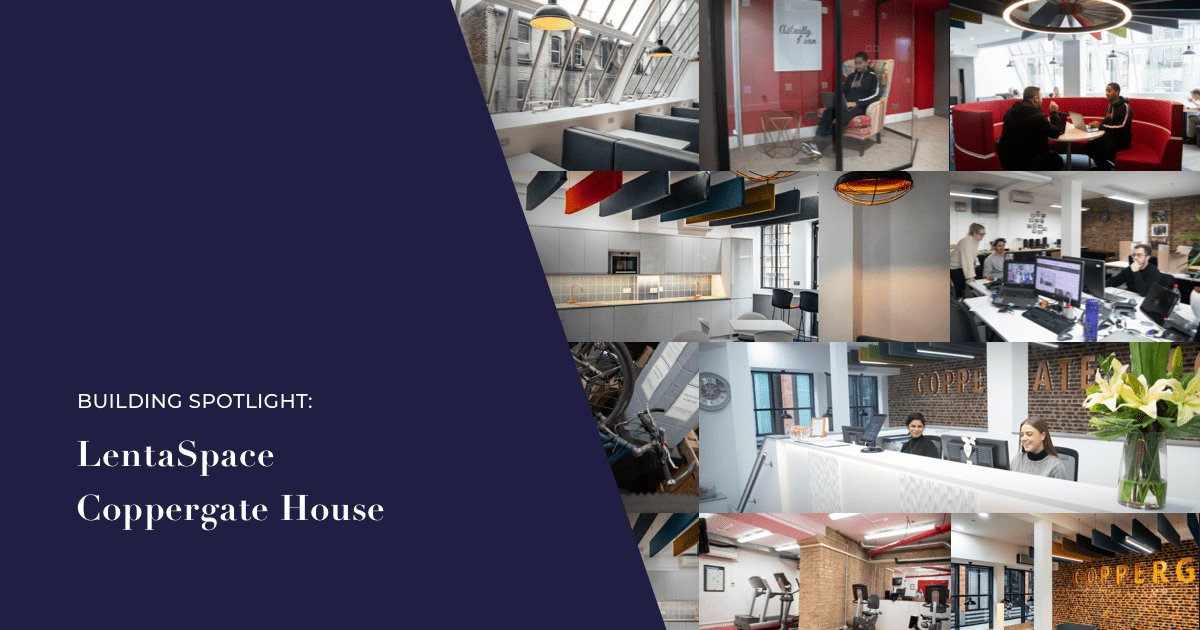 Building Spotlight: LentaSpace Coppergate House
Our 40 years of managing office space in London has taught us that the everyday experience of working in a building and an area is what really matters over time.   So, we are sharing the stories of what it's really like to work in our buildings. Hear from the teams who manage them and – most importantly – our clients. The third blog in this series explains why LentaSpace Coppergate House, Spitalfields is such a great place to work.
Central with great travel links
Griffiths Evans  are an Engineering Design Consultancy, specialising in commercial buildings. They chose LentaSpace Coppergate House to set up their business in 2017.  "The location, the reasonable pricing and flexibility of office size were really attractive for us" says Mario Castro, Team Manager. "Travel-wise it also works really well for the team, with great bus links. Most of our work is in Wembley, so we just jump on the tube – it's a direct journey – so it's great for us."
Amazing customer service
Coppergate House client Martin Hartman runs a hospitality staff training company, Reception Academy, so he knows how tough it is to deliver consistently good service, "We work with hospitality businesses and staff turnover is high.  But not here, it's clearly a happy team. Katie and Bobbie set a high bar for everyone, they will always approach me as I come in and always smile. Even the security guy, Jonah, is always pleasant and helpful, every single day. It's absolutely consistent, which I find so impressive."
Spitalfields is a fun and buzzy office location
"Spitalfields is a brilliant area to work." Says Vicky McIvor, who runs her talent agency, Take 3, at the building. "There are fabulous shops and the market of course. My clients come into the office and they love to meet me here."
Martin Harmann agrees, "When we have clients visiting, we always take them out to the market.  It's really unique, there are places that you won't find anywhere else, and the buildings have real character.  Our students love the funky, cool feel and are always impressed when they arrive. It certainly adds to our business."
Facilities that impress
The freshly refurbished Board Room is a useful facility for engineering company SCMS, according to team manager, Beverley Mitchell, "The meeting rooms are brilliant, especially the Board Room suite which is a perfect set up with refreshments and its own loos.  We host design team meetings on specific projects, with partner companies, so you want somewhere that looks impressive."  Mario Castro is also happy with the building amenities, "The facilities here are great, including the gym, and after the refurb it looks great, really professional."
What the team say
The team clearly set high expectations for customer service, as Katie Cornish, Co-manager of Coppergate explains. "We pride ourselves on our service. I expect it as a customer, so I have to meet my own standards."  Over the past year the team worked even harder than usual to support their clients. "We continuously communicated with every client and did anything to help. We fixed things quickly, measured up offices for new equipment, forwarded their post, ran their taps and emptied their fridges. It's the personal touch that is important. Of course, we also helped out with reduced rents for companies struggling due to the pandemic. Anything we were asked by clients, we tried to help."
Get in touch
If you would like to book a tour of the building with our team, call 0207 953 8080, or book here.