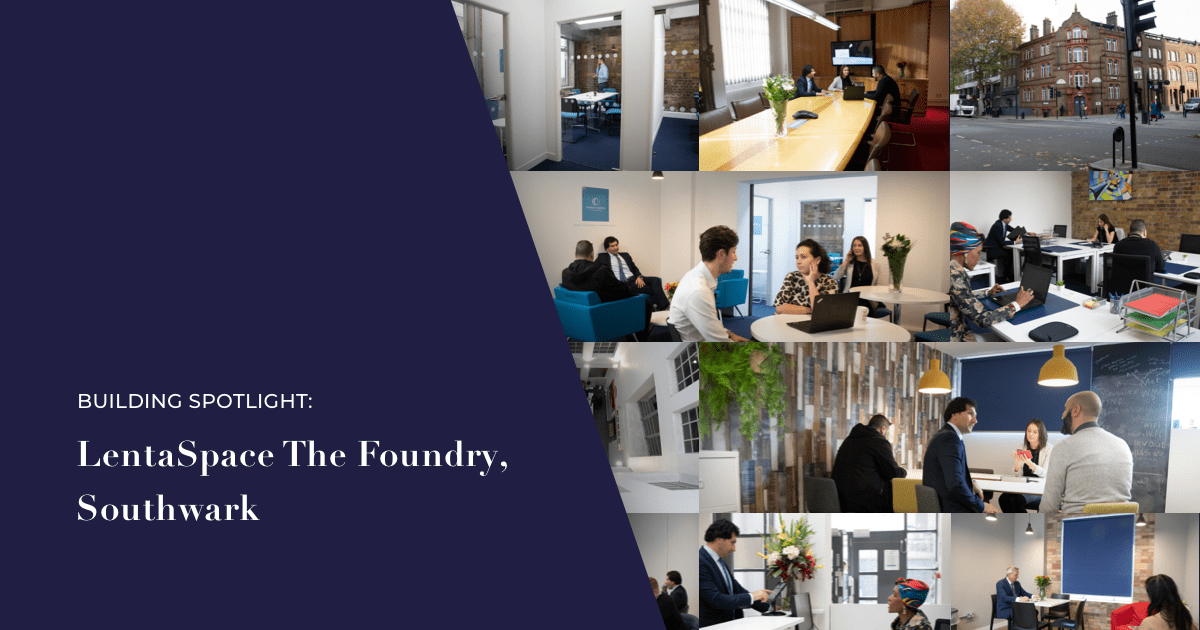 Building Spotlight: LentaSpace The Foundry, Southwark
Our 40 years of managing office space in London has taught us that the everyday experience of working in a building and an area is what really matters over time.   So, we are sharing the stories of what it's really like to work in our buildings. Hear from the teams who manage them and – most importantly – our clients. The third blog in this series is about the most unique building in our portfolio, LentaSpace The Foundry, in Southwark.
Great transport links
LentaSpace The Foundry has been a part of our portfolio for over 30 years. It is home to 43 offices, 479 workstations and 3 meeting rooms. The four storey, elegant brick-built Victorian building is home to a diverse mixture of clients, from construction companies, to travel and media companies. Even an Oscar-winning wigmaker for the film and theatre industry.
The Foundry has a great central SE1 location on Blackfriars Rd, accessible to many stations. It's just 7 minutes' walk to London Waterloo, 15 minutes' walk from Blackfriars, 3 minutes to Southwark and 10 minutes to Borough and Elephant and Castle underground stations.
Serviced office benefits
Key Tours International are a travel company, specialising in driving holidays in Spain, Portugal and France.  Gary Drewett, Director of the company, moved the business to The Foundry in 2010, after their original leased office proved too demanding to manage.
"I really wanted to focus on getting the business up and running, rather than on managing an office. I chose The Foundry for a few reasons. I really liked the style of the building, the red brick façade, and our office is the right size, upstairs with a balcony and large windows, so it's really bright.  It also made sense from a practical perspective. In our business we cannot afford any downtime, so we needed to move over the weekend and be ready to start business again on Monday morning."
Customise your space
As LentaSpace own their buildings they are always open to working with clients to customise office space to suit their needs.  Charles Cameron & Associates, a mortgage broker, who have been based at the Foundry for 10 years did just that and the result was a beautiful, branded office suite for 70, including their own meeting rooms and kitchen.  The space feels like a real home for the team and is an impressive place to meet clients.
Perfect hybrid working location.
Edgar Ruiz, who manages the building alongside LentaSpace's other SE1 buildings has noticed that the building has become attractive to clients setting up a hybrid working solution for their teams.  "Our competitive desk rates and monthly rolling contracts allow companies to test out their space needs with staff coming in 2 or 3 days per week."
Buzzing local area
Gary also appreciates the local area of Southwark, "Everything is close by, like Sainsburys, Tesco Express, and Caffé Deniro next door is run by some great guys.  I also love the diversity of food in the area with the street food at Lower Marsh Market. It's a humming area, increasingly gentrified and a great place to take clients out for a coffee."
Get in touch
If you would like to book a tour of the building with our team, call 0207 953 8080, or book here.