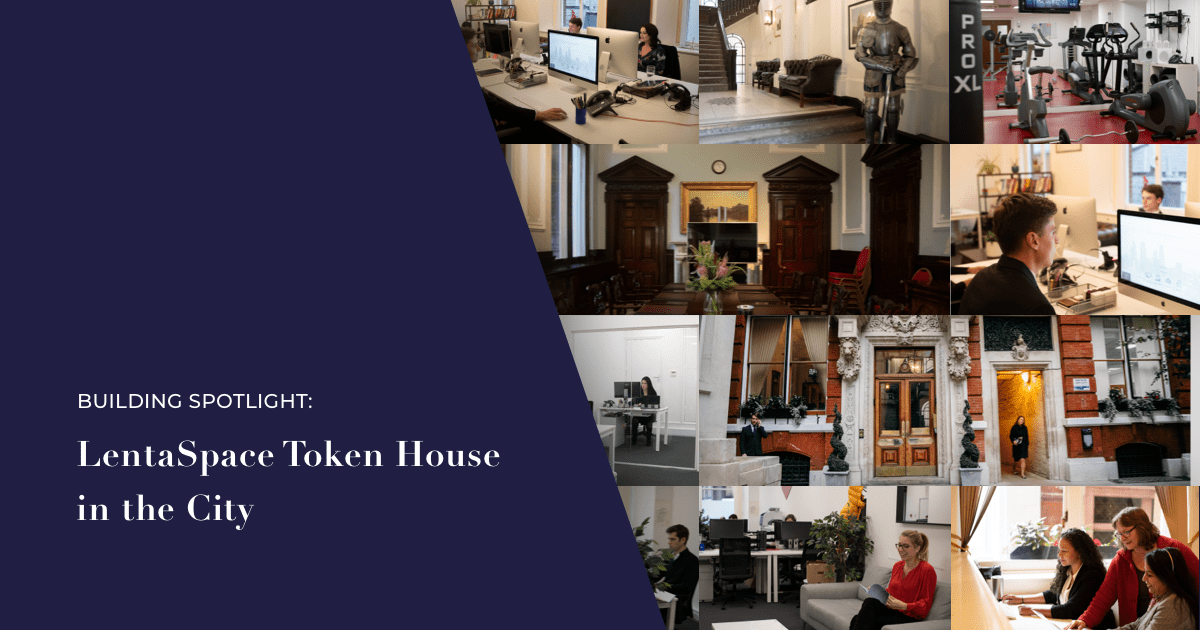 Building Spotlight: LentaSpace Token House
Our 40 years of managing office space in London has taught us that the everyday experience of working in a building and an area is what really matters over time.   So, we are sharing the stories of what it's really like to work in our buildings. Hear from the teams who manage them and – most importantly – our clients. The second blog in this series is about the most unique building in our portfolio, LentaSpace Token House in the city.
A building with City heritage
Token House was built in 1871 and is the Grade II listed former home to Casenove, the Queen's stockbrokers.   Clients love its classic façade and wood panelled entrance hall and meeting rooms.
The city heritage was especially important to Oliver Temple, who moved his family company, Gold Investments Ltd, to Token House in 2019, "When we found out that the Bank of England's original gold vaults were based in the building, we knew this was the place for us!"
The perfect city location
Token House is perfectly positioned just a few minutes' walk from Bank, Moorgate and Liverpool St. stations. The National Register of Public Service Interpreters (NRPSI) team of eight moved into LentaSpace Token House in 2017 and location was a key factor in the decision as a London-centric organisation, according to their Director Mike Orlov, "Being a short walk from Bank and Moorgate tube stations is useful as our interpreters often visit to have their documentation verified for security checks. It's great for the staff too, as they travel in from different directions."
A serviced office that doesn't feel like a serviced office
LentaSpace chooses not to brand their buildings in an obvious way, allowing clients' businesses to shine.  This attracted Oliver Temple, "We chose Token House because the history of the building, the traditional décor and the fact that it was not obviously a serviced office suits our business and our high-net-worth clientele. It fits with our brand and reputation."
Also key to this non-serviced office feel are the LentaSpace team themselves, "It's important that our staff want to come back to the office after the pandemic" says Mike, "and LentaSpace creates that atmosphere in their buildings. It's the people that make the difference. There's a sense that the Lenta team are part of our team – they are exceptional."
A great home for providing services to city workers
LentaSpace provides a home to many London-based therapists and Claire Van Den Bosch, a psychotherapist, sees her clients in the building's Wellness room, Claire moved her city practise to Token House in 2018 and chose the location because of the elegant building façade and quality of the space, "First impressions are everything with my clients and Token House helped me up my game professionally."  The central location was also key, "The location here is great, its central for my clients and so easy to get to. They either work in the city or its easy for them to travel across town to me. Not many who work in town can't get to me, even if early or late and for me, that means that I can fill up the day's schedule."
A fun community atmosphere.
Far from being a formal place to work, the team at Token House love to brighten up their clients' day, as Building Manager Gina says, "We love to decorate the building for each holiday, create a fun atmosphere and get everyone involved.  We have quite a few clients who work alone, so they really appreciate how much effort we make to create a community."
Get in touch
If you would like to book a tour of the building with our team, call 0207 953 8080, or book here.