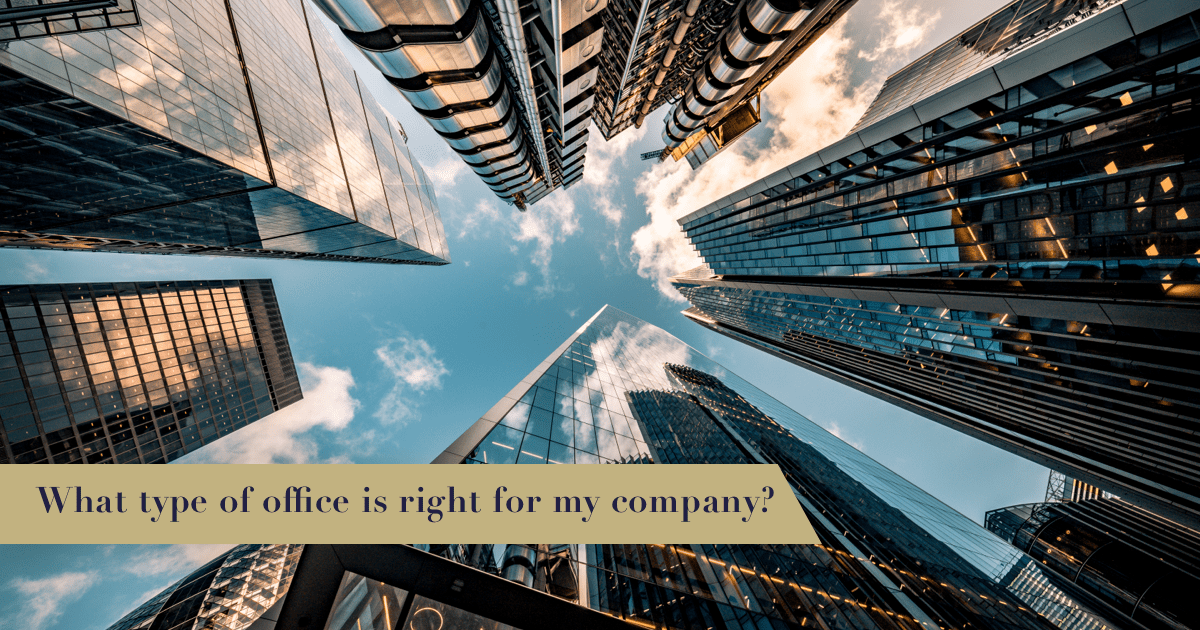 What type of office is right for my company?
"What type of office is right for my company?" is a very relevant question for many companies right now, as they begin to reconsider their blanket working from home policies and try to bring their teams back together for at least some of the time. Choosing a new office usually falls to a member of the company who isn't a property specialist, so we have put this guide together to help you choose an office best suited to your company.
Not all offices are the same
Types of office space vary hugely and come with specific pros and cons, which will suit certain types of companies. So, we have summarised the main options below:
Leased office
The traditional leased office tends to suit larger, established companies as the contracts are longer and fixed term. You can lease any size of space, from part of a floor to a whole building.  Pricing is per square foot and the company is responsible for organising and paying for their own utility bills, internet, furniture and cleaning.
This office space option will give your company the most freedom in terms of office layout, as leased offices are usually unfurnished.  So, if your company wants to put a stamp on its own space, this is the best option.
On the downside, you need to be prepared to spend time managing the set-up of a leased office and the ongoing management.  Also, if you decide to move out before the lease is finished, you will need to sublet the space yourself.
Flexible workspace
Flexible workspace includes both serviced offices and more industrial workshop type space. The offices are effectively managed for you and will usually include reception, meeting rooms and shared facilities like kitchens, breakout space and gyms.
The benefit of flexible workspace is that the one monthly fee (based on a price per desk) covers all of your rent, utilities and internet charges.  Offices are furnished and ready to move in too, so it's an easy choice for your team.  The flexible contracts suit growing companies, as they allow you to switch office space or leave at a month's notice, although committing to a longer contract will mean a lower desk rate.
The downsides to flexible workspace are few, but if you are looking for space for more than one hundred people, finding an office can be difficult.
Coworking
The ultimate in flexible contract types, coworking spaces offer individual memberships for a monthly fee, with drop-in or fixed desks, perfect for solo businesses and small consultancies.
The great thing about coworking is the real hospitality ethic, with well-designed spaces, cafes and additional concierge services. They can also be creative, social places, which can work well if you are self-employed.  As with flexible workspace, everything is included in one fee and contracts are rolling.
Depending on the blend of services, coworking can lack larger office space which would mean moving again if your company grows. There is also of course the issues of working in an open plan space – noise and lack of privacy.
So, whatever your company size or location, there will be a solution that will suit your needs and entice your team back to the office.
If you need advice on the right type of office for your company in London, get in touch with the LentaSpace Sales team and they will be delighted to show you a variety of serviced offices across the city. Contact them on 0207 953 8080 or via our contact page.